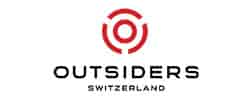 Outsiders Watches Black Friday
The Swiss Made automatic watch at an unbelievable price!
Outsiders Watches is a young start-up that disagrees with the current price conditions of the Swiss watch industry. Our mission is simple: to produce timeless Swiss Made automatic watches made of high quality materials at a fraction of the price our competitors charge. How do we pull this off? We sell directly to you with no middleman. We pass on all savings to you to offer unbeatable value for money.
Shop Now